A few days ago when I was watching "The Italian Job" (the new one with Mark Wahlberg, Charlize Theron etc.) I heard a song that I absolutely wanted to have. After some googling I found name and artist ("To Get Down" by Timo Maas) and started looking for an online store where I could get this song.
---
First of all I went to iTunes. Nope, only his newest album is there and this is only available in the classic DRM'd format. No thanks.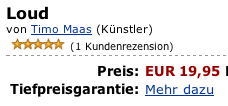 On Timo Maas' homepage I found a reference to Amazon Germany so I went there in the hope that the album wouldn't be too expensive considering that I was only interested in this one track. 19.95EUR?! No thanks!
Then I asked Stefan and he gave me the URLs of some online stores for DJs. On one of them (beatport) I found the track, entered my CC info and clicked the "Buy" button…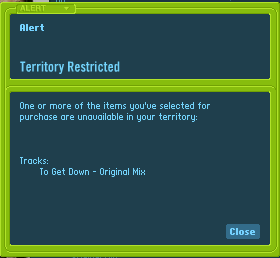 Great. Sometimes I really get the impression, that some people don't even want to sell music. It's just there to mock people like me.