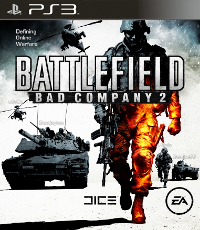 Well, the new year is already nearly a month old and I finally found some time to make up my mind regarding Game of the Year 2010 ;-) There were tons of games to consider this year, starting with Mass Effect 2, Just Cause 2, and many many more. But the game that stood out to me was (and still is) Battlefield: Bad Company 2 which never left my PS3 for more than a week ever since I got it somewhen in June, I guess.
And I can't really say it's the story that kept me playing but the multiplayer modes and Rush in particular. I'm still not good at it but after all these months I still enjoy a game or two after work and that's what makes it my game of the year :-) For some reason, ranking systems and team-multiplayer games simply are the types of games I can't stop playing.
A close runner-up was Just Cause 2, which I got in autumn and played nearly as much or perhaps even more than BFBC2, but it's not one of these games you return to after having seen everything (which I haven't yet, but anyway). And there was StarCraft 2 for which I even bought a new PC ;-)
What game made you completely lose track of time last year?