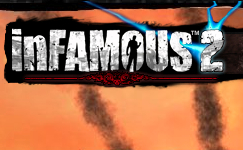 So the PSN Store is finally also online again in Europe and the first thing I did yesterday was to download the demo of inFAMOUS 2, the successor to one of my favorite games in 2009. The demo is really nice since, once again, you get a sample of missions for the good as well as the evil Cole and can mess around with enemies as well as the slightly post-apocalyptic environment.
I'm still not sure that I like the new characters models or the new voice actor for Cole but the game plays great and I really need another great open world game, so I'm definitely looking forward to this one. Especially, after playing such a nice demo :-) If you have a PS3 you should definitely at least try the demo. It even includes a recap of the first game for those of you who missed it.
Logo take from screenshot of the official website.