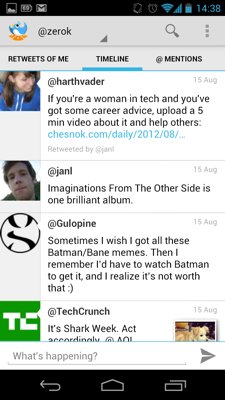 Ever since I got my Galaxy Nexus I've been looking for a good Twitter client. Eventually I settled with the official one but was honestly never all that happy with it. I guess, I'm just a little bit spoiled thanks to having used Tweetbot on iPhone and iPad.
Along comes Tweet Lanes by Chris Lacy . The interface here feels a little bit like Tweetdeck; you have one "lane" for mentions, your primary stream, private messages, retweets, saved searches etc. and you move between them by swiping horizontally. There is also the use of the volume buttons to scroll up and down a lane which makes the app extremely usable with one hand.
If you're thinking about replacing your current Twitter app with this, though, keep in mind, that it is far from complete right now. There are no notifications yet and also no auto-completion whatsoever. There are probably some other things missing depending on what app you're using right now, but these are the two main things.
Luckily both seem to be on the horizon :D
Definitely try it out!